NFT communities benefit from in person events
November, 2021- in the center of Manhattan, NYC – a huge NFT conference changed the crypto and NFT industry forever.
NFT.NYC is a yearly an in-person NFT conference.
It's a big deal for a number of reasons, but in many ways, NFT.NYC 2021 was a catalyst that brought blockchain, crypto, and NFTs to a much larger percentage of the population.
The Crypto Punks, Bored Ape Yacht Club, and other NFT projects were brought into the spotlight and became known to the mainstream individuals.
Many people were motivated to invest in crypto, setup their first non-custodial crypto wallet, and mint or purchase NFTs because of all the action and excitement surrounding the conference.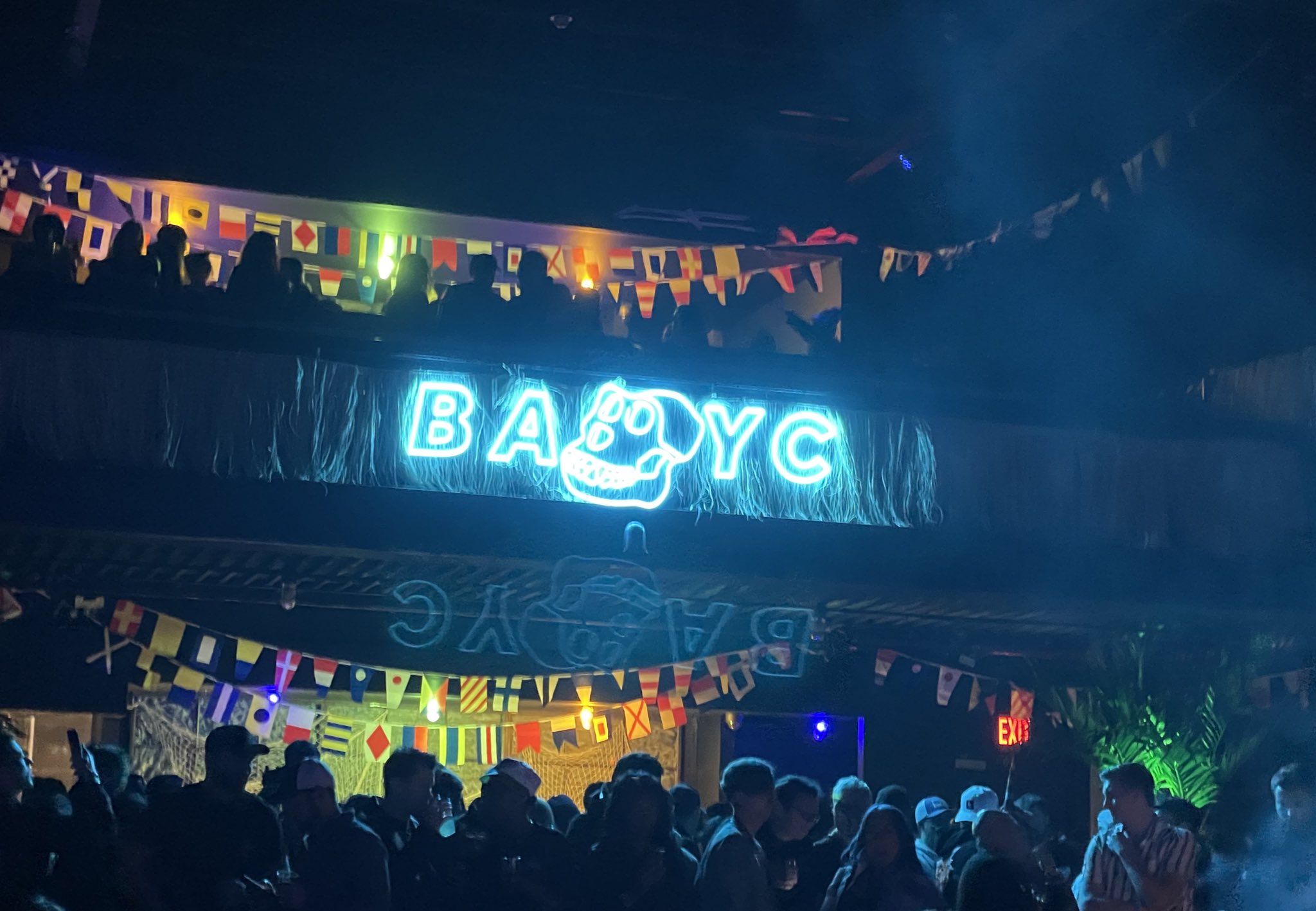 The BAYC community stood out during NFT.NYC and has since grown exponentially.
We believe that the key reason for BAYC's exponential growth and success was that the team hosted multiple parties, meetups, and events throughout the week of November 2-4, 2021.
In the months that have passed since the conference, the Bored Ape Yacht Club has gone nowhere but up and to the right, creating immense value for its NFT owners and community overall.
Since the conference, Bored Ape Yacht Club community and organization Yuga Labs have been hard at work.
A few of the big news headlines recently includes the recent launch of the $APE token airdrop, as well as Yuga Labs acquiring the Crypto Punks and Meebits from Larva Labs.
Did in-person meetups influence the Bored Ape Yacht Club's immense success?
As of today, the Bored Ape Yacht Club is the number 1 NFT project.
While there were likely a few contributing factors, we cannot overstate the significance of in person meetups which catalyzed this growth.
We believe that in-person connections and networking among the BAYC community during and after the conference was a key reason that the sales prices have more than doubled recently.
In addition, there have been standout sales of millions of dollars for specific BAYC numbers.
The Bored Ape Yacht Club community is now a global network.
With 10,000 NFTs in the collection, the members of Bored Ape Yacht Club have the opportunity to meet up with local owners in their geographic location.
There have been in-person Meetups in Los Angeles, Atlanta, Amsterdam, and elsewhere.
Why do people join NFT communities?
Owning an NFT is not only a financial investment. Yes, you typically mint or purchase an NFT, and spend money in order to own it, yet owning an NFT is so much more.
Purchasing an NFT means you are joining a community of real people, a group of people larger than yourself.
When humans form groups, they create something that is greater than the sum of its parts. Group, tribe, club, and team formation is a key fundamental behind all human behavior.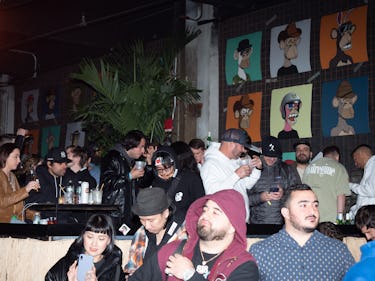 Being a member of a community is an investment of our time, effort, and energy.
Buying into a credible NFT project means you are deciding to become an active contributor to the community in some way.
When an NFT community has members / owners that are dedicated and genuinely want to build the community and contribute positive things, the community becomes more fun, better networked, and more inviting to new members.
Why should NFT communities connect in real life?
People crave genuine connection and interaction.
Having a big event on the a community schedule, even if it is just a few times a year, brings people together, gives them a reason to stay in touch, and creates purposeful interaction and networks.
We believe that the NFT communities which host in-person events create exponential increases in community value.
It helps on-ramp new users into the blockchain technology space, providing newbies a safe place to learn about crypto, NFTs, DeFi, wallets, and more.
Experienced members of the community can share wisdom and insights with those that are new to the arena.
And having that in-person connection helps people feel closer to those in the NFT community. Once you meet up with someone from your network in real life, that person becomes a friend, a part of your social circle, and you think about the entire project in a new, more realistic energetic light.
In-person NFT events help eliminate flippers and short-term holders from the community.
Internet hype from influencers with large following will pump up NFTs and get more people to buy them, but this type of increase only has short-term impacts.
Instead of making the community stronger, this type of hype only invites flippers and profit seekers into the Discords and Twitter spaces.
These short-term thinkers might even negatively impact the experiences of long-term dedicated community members.
I am all about long-term thinking.
Network value cannot simply be one-to-many, where a single influencer with millions of followers encourages many people to buy into a project.
Hype pumping does not benefit the community long-term, it benefits flippers.
What will sustain long term is when all members of the community can seamlessly access, and easily connect with all of the other members. Whether this is thru communication channels, Twitter DMs, Discord servers, or meeting up locally for coffee, beer, dinner parties, or business opportunities.
Which type of NFT community do you want to be a part of? What type of network sounds like the most fun and intriguing?